Box Modelling A Human Figure In Blender Experiment 1
I am now working on a concept picture of a Dark Acolyte Of Mymosule from my digital comic project.
However I am again experimenting with a different art process.  This time I want to try the following process:
Create a rough 3D model in Blender.
Rig the 3D model up in Blender so that I can place the 3D model in a pose.
Render a basic scene from Blender.
Import into Gimp and paint over the scene.
So to start this off I have been box modelling a human figure in Blender.
Beginning with a cube and using a mirror modifier so that I only have to model half of the figure, I extruded a basic humanoid shape: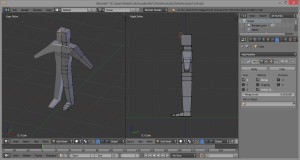 After that I spent a fair amount of time adding edge loops and shaping the 3D mesh into a more detailed human figure:
Then I had to give some thought to the mesh topology for the chest and deltoid muscles, here's the design I came up with:
After that I was able to further refine the anatomy:
I'm out of steam for tonight so I'll leave it there.  The next step will be to add facial features and the hands.